Creating unique high quality bog content with AI may sound appealing, but if using just ChatGPT you'll soon find that your content sounds the same and that it has a very identifiable style.
On social media sites like Twitter (X) there are loads of people recommending different ways to prompt to get better results, and even how to bypass AI detection. That's all well and good but the key thing IMHO is that you risk losing your own authentic voice, no matter how imperfect that may be.
Whatever content you do create with AI is going to need to be proofread and edited. Ideally adding your own voice to the content as you do so.
However there is a shortcut that i wrote about in the last post that can help turn your original content into more engaging, interactive content. And while i still suggest doing a final manual edit, this seems to work well.
The tool is called Neurarephraser and it will give you several tools to create quality copy and transform your original content into something more like a copywriter would write.
As you started with your own content then the style may not change too drastically.
Personally i like to use it with the 'solution spotlight' tool as it uses the 'Pain, agitate, solution' type approach and that provides more engaging writing in an instant.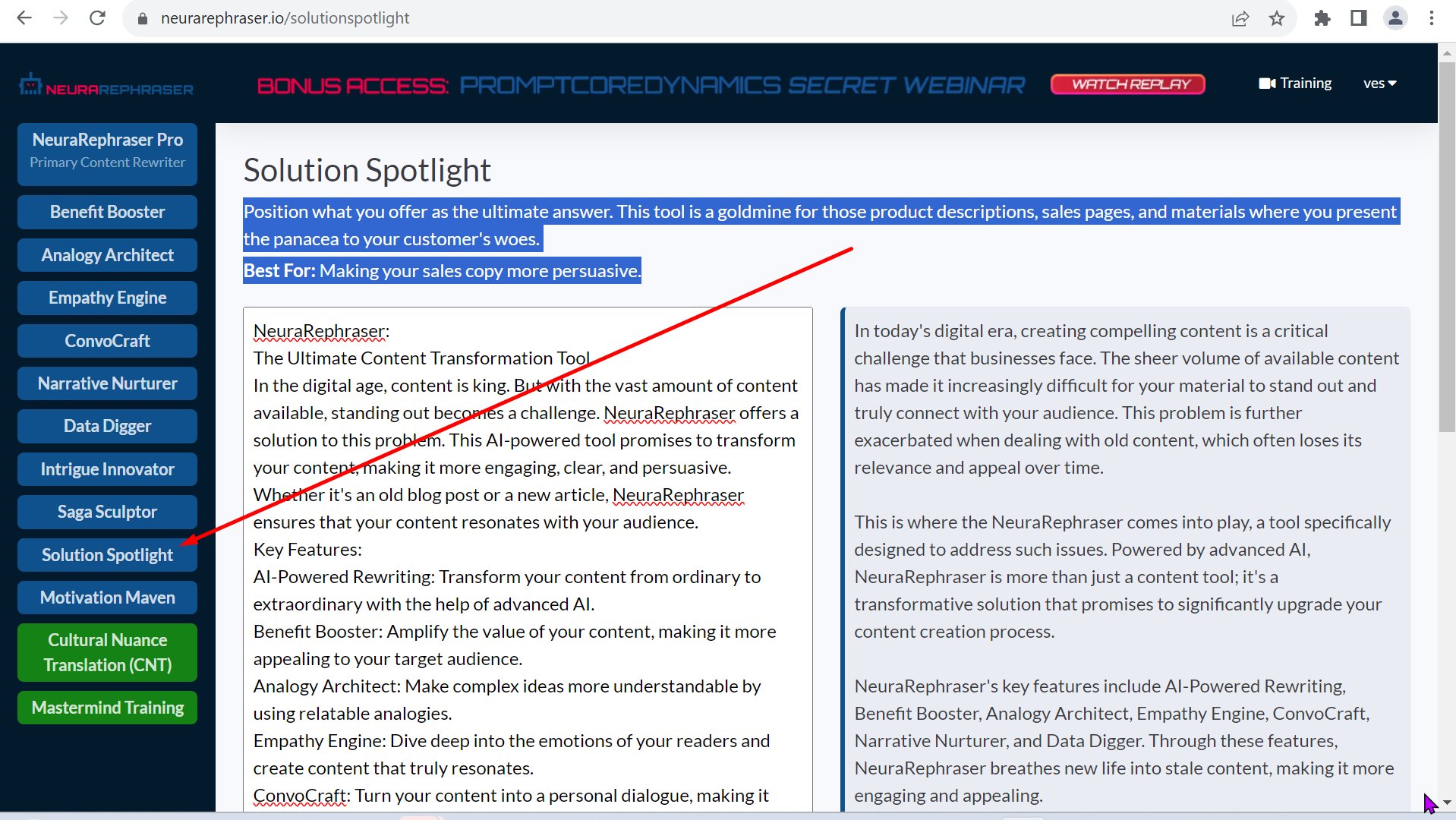 In the above example i added the sales page URL and fed it into ChatGPT and asked for
A summary of the product
An outline for a blog post
A draft version of the entire blog post
Then fed that into Neurarephraser
The end result was a shorter but more concise piece of content, which is perfect for the style i want for this blog (short form content without fluff, and not writing 700 words for search engines before getting to the main purpose of the article).
This is a quick easy solution to create unique high quality content for a blog and if you want longer content then the main Neurarephraser tool can do that for you.
KEY TAKEAWAYS
– NeuraRephraser is your go-to solution for converting stagnant content into engaging material that drives traffic and boosts sales.
– It's fast, efficient, and ensures your content doesn't lose its natural tone while aligning with professional writing standards.
– Quality assurance is paramount, and NeuraRephraser's outputs consistently perform exceptionally on Grammarly and plagiarism detection tools.
– It's not just a rephrasing tool, with ten additional tools at your disposal, you can craft persuasive sales copy, engaging narratives, and include data and facts.
– With a 30-day money-back guarantee, there's no risk involved. If you have old or unused content, use NeuraRephraser to create fresh, engaging content that can drive traffic and sales.
Watch the short demo video here
Let me know what you think.
We have a webinar coming up on the 10th of October with Gary and Patrick from the Ranking Factory. They will be showing their new product that creates Google Sites PBNs with automation.
If you want to learn how they generated 700 page 1 rankings from Google Sites PBNs you can register below.